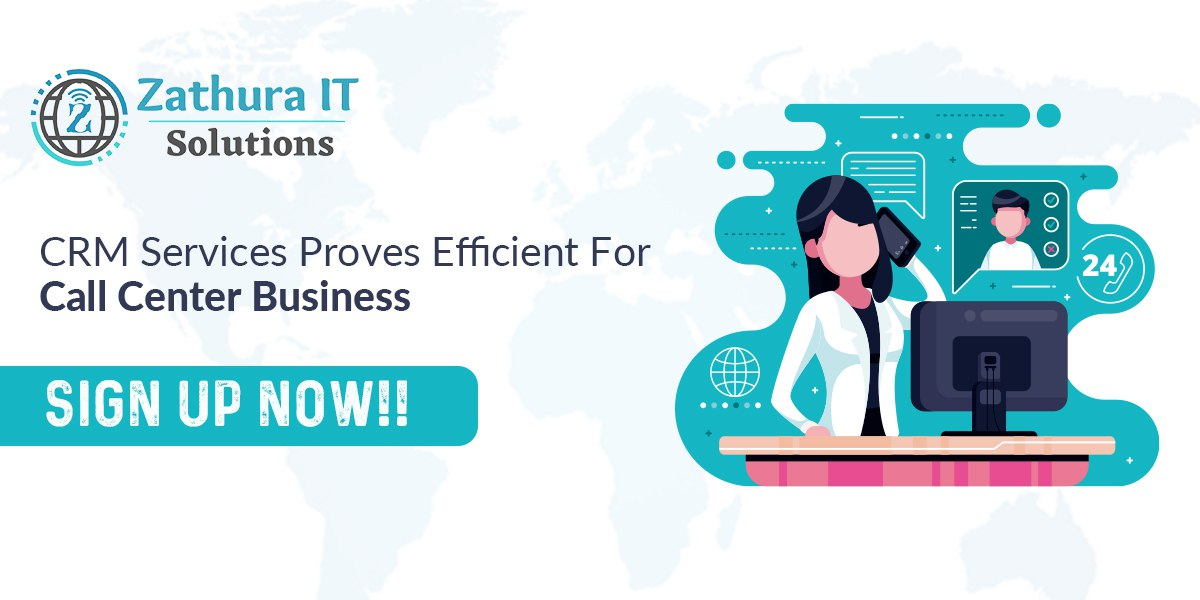 CRM services prove efficient for call center business
CRM services prove efficient for call center business, and once you choose the CRM service, you get benefits for a lifetime.
The call center industry has expanded significantly in recent years, due to the increasing number of employees at companies. Employees in call centers deal with vast amounts of data and contacts regularly, which takes a lot of time.
To construct a centralized database, you will require CRM software. Call center representatives use CRM software to organize their business operations and boost overall productivity when making calls. Here we describe the CRM services that prove efficient for call center business.
Customer relationship management (CRM) solutions for call centers are essential tools for businesses looking to improve their customers' experience. Call center CRM applications boost customer satisfaction and retention rates. Credit card companies rely on call and contact center CRM software to provide excellent customer service, streamline processes, and reduce attrition.
What exactly do you mean by "call center"?
A call center is a centralized division that responds to incoming and outgoing calls from clients, both present and potential. Call centers can be found inside an organization or outsourced to another business specializing in taking calls.
What is CRM?
CRM software helps business owners keep track of correspondence and develop relationships with customers and prospects. The several spreadsheets, databases, and apps that many organizations slap together to maintain customer information are replaced by a CRM. The end effect was improved time management, organization, and client satisfaction.
CRM services are based on how firms approach customer interactions and develop connections with customers. Delivering better services and fostering better relationships with the customers involves gathering customer data and examining the history of customer interactions. It will ultimately increase sales and revenue.
Why do call centers need CRM?
If you don't have a good CRM service, it will be difficult to keep track of all the interactions and contact points you've had with specific clients because your customer data will be dispersed all over the place. As a result, the sales cycle is prolonged, and the customer experience is subpar.
Manually organizing all the data increases the risk of mistakes and leaves out crucial information. It can take time to prepare sales reports and make calls.
A sharp decline in sales and revenue could result from these overlooked potential consumers and data.
Client relationship management (CRM) is a valuable tool for managing customer interactions in your business and analyzing vast amounts of data.
CRM is a platform that unifies all the information in one location and automates the process. Software for call centers has shown to be incredibly effective and time-saving. It acts as a single platform for data storage.
CRM services prove efficient for call center business
The CRM services offer a wide range of options, allowing you to get the most out of the software. It provides fantastic service, and you should consider how usable it is.
You can obtain customer information thanks to the CRM solution. It aids in properly arranging the information. Cloud Call Center CRM enables effective agent interaction.
Even so, they provide you with individualized service that is trustworthy and beneficial. Employees will receive updates as communication improves. You are given individual tasks in the care of the clients.
Sales have increased, and present customers profit greatly. You will receive post-sale support. As a result, you will receive excellent service at a reasonable price. Make sure you profit from the CRM solution.
Features of CRM services in Call centers
Integrate with other tools
Running a business requires the usage of numerous tools. It might include chat tools, integrations with your customer support tools, or marketing networks like AdWords or Facebook. Your CRM should be able to integrate with all of your business tools to create a seamless system.
Detailed customer or clients information
As a result, your CRM must demonstrate what your lead truly desires and the characteristics of his previous purchases. You will only increase your customers' pleasure by providing them with a more individualized experience using this information.
Distribution based on availability and quality
However, would a random distribution of calls make sense based on availability and quality? Some users may be not available at times, or a caller may need an agent who is knowledgeable about his needs.
You should be able to assign leads to people currently using your CRM online. Additionally, it should be able to determine the lead's requirements and allocate them to the appropriate call center representative. For example, if you get a car loan request, you send it to the agent who handles car loans.
Routine inquiries are one of the call center services that consume most of your budget. It can involve questions about financial plans or programs that are offered. They could waste your agents' time and add to labor costs. Instead, you resolve this issue by utilizing an IVR integration.
Every time a new incoming call enters the system, there shouldn't be a need to enter it manually. By automating call capture, you can ensure that no calls are lost. It eliminates manual errors where the agent can overlook logging incoming calls he receives during the day.
CRM services Call Center from Zathura IT Solutions.
Companies may modernize their call centers and better understand their customer's requirements and behaviors using Zathura IT solutions' CRM software. Businesses can use adaptive and predictive analytics to constantly provide customers with the experience they want and the best offers to promote sales and business success.
Customer and data, Zathura IT's call center CRM solutions optimize interactions to raise customer happiness and lower expenses. The CRM apps from Zathura IT enable businesses to increase customer loyalty and productivity and experience considerable business growth. They are available as an on-premise solution or in the cloud.
The guided customer service desktop in Zathura IT's call center CRM software gives customer service representatives access to relevant customer data. The software also includes tools for predictive and adaptive analytics, enterprise case management, and social media monitoring.