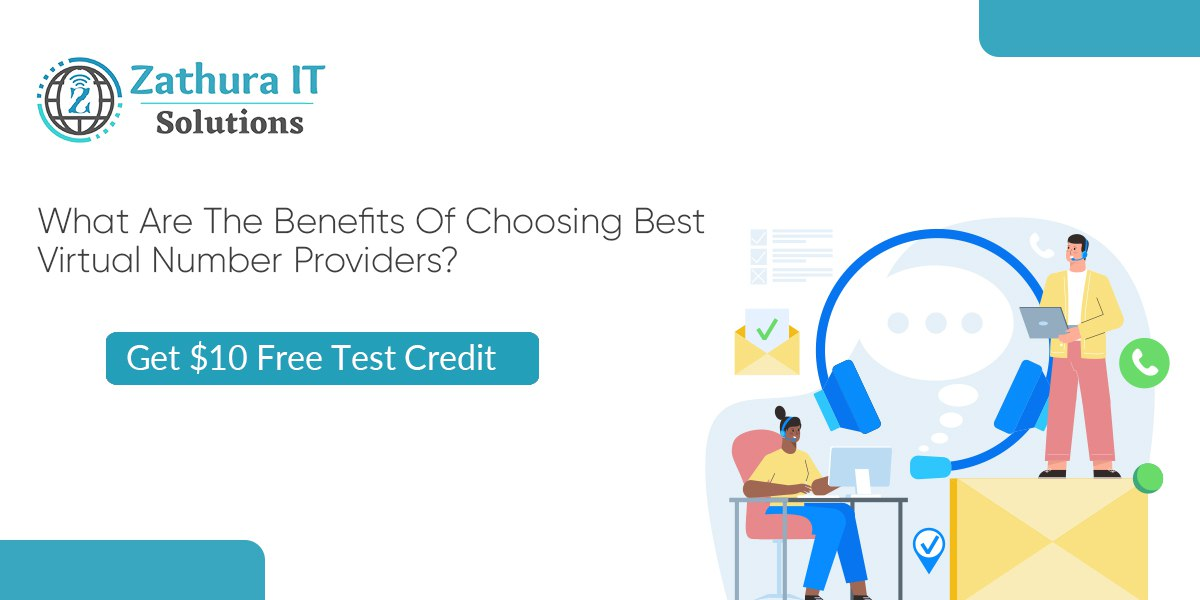 What Are The Benefits Of Choosing the Best Virtual number Providers?
Select the top Virtual number provided for your company and benefit. Zathura IT solutions offer the most significant virtual phone number.
What is the meaning of a virtual number?
A virtual number is not tied to a specific location or specific area. Virtual numbers can be used on any phone, including VoIP (Voice over IP or Voice over internet protocol), desk phones, cell phones, and softphones, to make or receive calls. Virtual number is ideal for office workers and those who operate from home. 
You(customers) have the option or menu to choose which devices get calls from the virtual numbers and change them as needed. They are often known as "secondary" demand due to their adaptability. Additionally, virtual numbers offer greater privacy than regular phone numbers that can be located in online directories.
Virtual numbers are becoming increasingly popular. Businesses utilize them to receive calls from customers worldwide, independent of their location. Virtual phone number allows them to maintain constant contact with their customers. They can't tell the difference between a virtual phone number and a regular phone number. 
What do you mean by virtual number providers?
In a simple term provider, meaning is a person or business who gives someone something they need. Similarly, Virtual number providers mean the organization or company that provides virtual numbers for businesses, call centers, brands, etc.
How does a Virtual number work?
A SIM card or an actual address is not required for virtual phone numbers. It makes actual phone calls between people using secure internet technology.
Virtual numbers, on the other hand, accept voice over internet protocol calls (VoIP).
VoIP has gained popularity due to its ability to enable actual communication via current broadband connections. Your phone calls are digitized and connected through the internet and traditional phone networks using a cloud communications provider. Several VoIP codecs that provide outstanding call quality without using much data have developed throughout time.
The telephone numbers in the US are transferable, so you won't need to alter them. Number porting is the procedure that assures you can keep your business phone number independent of your VoIP provider.
As a result, taking calls with a VoIP phone number does not require a wired Ethernet connection. You can make virtual phone number calls as long as you have a number.
The Fast and reliable data connection network – 4G LTE, 5G LTE, or Wi-Fi. It is how virtual phone numbers enable you to receive calls on your smartphone.
Benefits of Virtual number
A well-publicized business phone number might become a beacon of your identity. Changing your phone number in the middle of a sale can affect your sales and your brand's image. 
Thanks to a virtual phone number that makes porting simple, your phone number will always belong to you. If you want to relocate your business to a different city or investigate a cloud-based telephony service provider, you can do so easily by making a small transfer budget.
Greetings and much more are made possible by virtual numbers combined with IVR technology. 
IVR (Interactive Voice Response) is a powerful telephony system that automates your entire communication process. It greets all incoming callers with a pre-recorded message and directs them to the most appropriate team or agent. Callers can also make use of self-service tools and prioritize service through the use of technology. Reduced wait times and improved analytics help businesses or call centers, increasing overall efficiency.
Connectivity is available 24*7 hours.
In today's world, businesses or call centers must be connected 24 hours a day, seven days a week. A company's or brand's loss of potential clients can be devastating; Therefore, you can't afford to miss a single call. A virtual number simplifies this process by automatically redirecting calls to the specified destination. It allows you to provide calls from anywhere, including on-the-run calls. Virtual numbers also provide operational flexibility for your agents or teams, who no longer need to work from a physical location. You will never miss another call by incorporating this virtual number technology into your communication paradigm.
Professional vs. Personal
Maintaining a healthy work-life balance is critical for all busy professionals. However, frequent calls during the day might overwhelm entrepreneurs and business owners. A virtual number allows you to separate your personal and professional lives without disrupting your business. 
Virtual numbers eliminate the need for expensive hardware setup and accompanying infrastructure. Furthermore, expenditures on related operations such as routine maintenance, additional staff, and emergency repairs become obsolete. Instead, a supplier will charge you a small monthly fee to cover these services. 
Furthermore, most service providers provide a "pay-as-you-go" model, allowing you to increase your operations while controlling your costs.
Call costs are controlled by using virtual numbers in conjunction with call logging. An organization or business can quickly know who phoned when, where, and for how much time. Setting call limitations for the virtual numbers can improve security while saving money or cost. Users or customers cannot make illegal calls, especially to expensive regional and international PSTN numbers, when a security profile is associated with a virtual phone number rather than a physical device. On the same smartphone, you can easily split professional and personal calls. The Virtual number forwards business calls or call center calls to the device. The phone can distinguish between business and personal calls if caller ID or identity is enabled. Contact numbers and other data can be split by industry and individual categories in some VoIP(Voice over IP) solutions and smartphone apps.
Why choose the best virtual number provider, Zathura IT solutions?
Before choosing any virtual number provided for your business, look at the benefits they provide for your business, call center, etc. Zathura IT is the best virtual number provider in India and the world.
Zathura IT provides the benefits of virtual numbers for your business; take the help of it, contact us today.